About the Author



Carrie Shasky in 1913, the year she was D. M. Canright's secretary.

Carrie Shasky-Johnson, the daughter of immigrant parents, became an Adventist in her teens and attended a shorthand school in Battle Creek, Michigan. While still a student she became the secretary of Dudley Marvin Canright, a former-Adventist-minister-turned-bitter-opponent.

Sworn to secrecy, for forty years she kept her promise to say nothing. Feeling this pledge is no longer meaningful, she now reveals, from the background of her unique experience with him, the kind of person the real Canright was.

—From the back cover of the Review and Herald edition, 1971.
---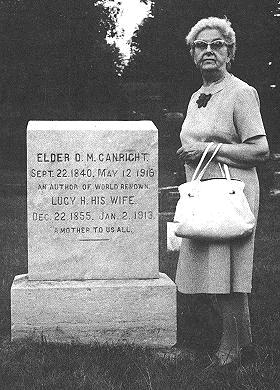 Mrs. Carrie Johnson standing by
Rev. & Mrs. D. M. Canright's tombstone.
It is logical that some may question, "Who is this Mrs. Johnson who now tells the story of D. M. Canright, fifty years after his death?" Mrs. Carrie Johnson, who authored this work, resides at Dowagiac, Michigan, with her husband, and not far from their son, a dentist, who practices in Berrien Springs. The Johnson's are members of the Decatur-Glenwood, Michigan, Seventh-day Adventist Church, in which both currently hold office. A resident of Michigan for a large part of her life, Mrs. Johnson has been in close touch with the development of the Seventh-day Adventist church, both as an eyewitness and as an earnest student of its history.
The reader will learn that she and her husband, now retired, served in the work of the denomination in various capacities in several States, Mrs. Johnson filling positions of secretary, schoolteacher, and literature evangelist. For the past four decades Frank Johnson, her husband, has managed business interests in Niles and Berrien Springs.
The Johnson's are known in their community as being a solid, Review-and-Herald-reading Seventh-day Adventist family, with whom many ministers of the church through the years were acquainted as they were graciously entertained at their home. Both husband and wife have filled many church offices, and Mrs. Johnson for eight years was the Dorcas Federation chairman for western Michigan. She served twelve years as the Niles WCTU president and eight years as the Berrien County president in Berrien Springs. During World War II she was cited by Michigan's governor for meritorious service as the Berrien County Neighborhood War Club chairman.
Sworn to secrecy when employed to assist D. M. Canright, Mrs. Johnson, now fifty years after his death, feels that she is no longer bound to this pledge to keep in strict confidence what she heard and saw during the period of time she served as his secretary. Her story, plus the result of her years of painstaking research, combines and forms a new and fascinating portrait of Dudley Marvin Canright.
—From the Review and Herald Publishers' Foreword, 1971.
---